Most of the graduates of our Bible course are very enthusiastic about our teachings. Those coming from the main university in Kinshasa have even formed a Facebook group to keep sharing the "Good News". Besides giving these Congolese young people a time of spiritual refilling to pray, meditate and hear from the Lord, our main objective in organizing this 3 day retreat was to share with them what are our Core Values as Christians, and challenge them to find their own calling from the Lord, as well as ask for personal prayer or counseling as needed.
The Lord supplied a beautiful venue on a hill in the countryside with the Combonien Missionaries (which led us to discover who this very special 19th century saint was, Daniel Comboni, an African lover, whose vision happens to be so close to ours, saving Africa through the Africans).
Thanks to Mylene's invaluable help from France, we were able to subtitle the English videos we had. We started each Core Value by showing a "Tommy's Window" slideshow which illustrated each theme. Lively discussions followed the showing of each Core Value, surrounding the very specific needs and challenges faced in this country and how to best apply the Word in these various situations.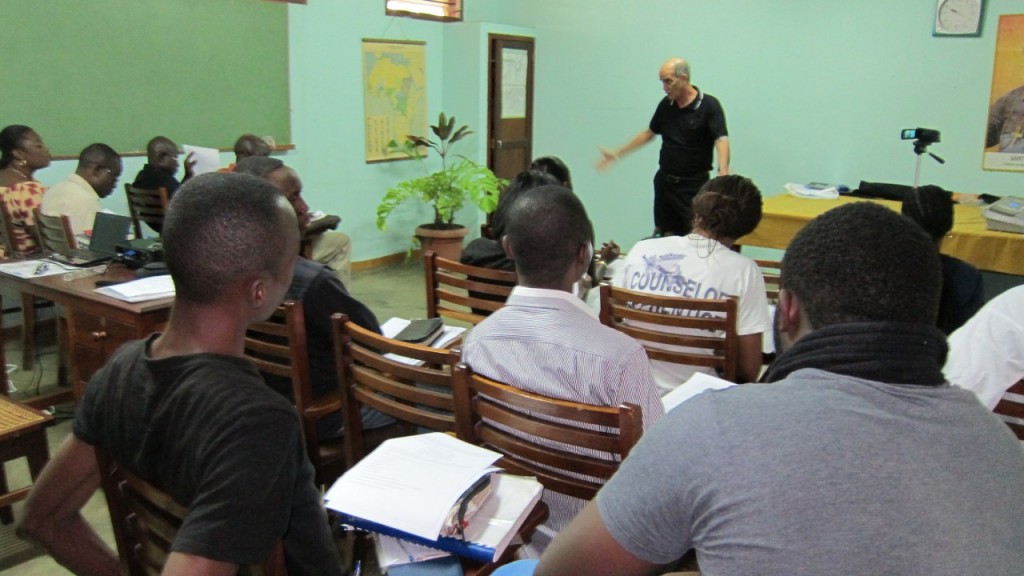 We had praise and prayer time, skits, inspiration, communion, united prayer, fellowship and loads of fun. We also showed a meaningful movie in French ("Hands of gold" about Ben Carson) which offered an example of the "Power of one".
Studying these Core Values set these young people free to realize they don't have to be frozen in the Pentecostal ways and practices, which at the moment are very dominant in Congo.
The presentation of the Core Values (loving God with all our heart, mind and soul; loving others; discipleship, etc.) really resonated with them and gave them the key to rising above all the different denominations and practices, something they have to constantly face in their witnessing: it's Jesus and the Word that save, heal and deliver, not the outbursts of emotions.
We believe this retreat deepened their relationship with the Lord and with the Word and will bear great fruit in their lives and in their service for the Lord. They are so thankful to have been given them this opportunity to set aside their problems and enter into His gates to get spiritually fed for 3 wonderful days.
We called on the old timers and pillars of the national work, Thierry and Oliver, to help with the classes, discussions and talk-times, also Cedric and Huguette to help with the prayer and praise activities.
Below are excerpts from some of their reactions:
Cedric (student in economy): I bless the Lord for the teaching we have received, which should be core values for all Christians, because the Lord has not called us to be passive, but active Christians; and to become active Christians we need to embrace these core values which will help us to reflect Jesus' light everywhere we go. I also bless the Lord because now I understand what it means to be a disciple. I had many questions regarding my calling and my vocation. Since childhood I was thinking about becoming a priest, I wanted to serve God but I didn't know how. But now I understand that I am free to serve the Lord anywhere, even as a secular member of society. I don't have to go to church to call myself a servant of God, but I have to be a witness because this is what the Lord has called me to be.
This sentence really touched me, the one that says that a disciple is a vehicle that Jesus uses to show people His light; it tells me that since I follow the Lord's teachings, wherever I am, I must be a vehicle to bring the Lord's light to others, be it in university, in my neighborhood, in my family, I must bring people to Christ.
I have really benefited from learning about these Core Values during this retreat, as I find them to be a necessary foundation as a Christian to lead a fulfilling life, in my relationship with the Lord as well as in my behavior in society.
Christelle (university graduate in Communication Science): This retreat was very edifying, it taught me things I didn't know, even things that I neglected in my life, about love, how to love God, follow His commandments and walk in His footsteps.
One thing that really impressed me is the importance of developing a close relationship with God, through spending time in His Word, meditating on it, memorizing it, so that it lives in us and strengthens our faith. I also really liked the concept of communicating with God through prayer as an exchange with an interlocutor. Something else that impressed me and which I find very important is obedience to the Word. In our churches here we have a tendency to say that everything is by grace, so that even if we sin, it's already all forgiven, therefore we don't even try to obey the Word. But "by this we know that we have known Him, if we keep His commandments." To love God, we must keep His commandments, walk according to His principles and follow His teaching. I really like this concept and it has renewed my relationship with God. We can shout and sing all we want, but if we don't follow His Word, we don't really have a passion for God. Emotions are not enough.
Serving God is not just going to church, preaching to people, or calling on the Holy Spirit like we do in our Pentecostal churches. But loving God is also witnessing for Jesus, announcing the Good News like Jesus told us to do. Loving God, it's also having a forgiving heart. Before, I had hardened my heart and was unable to forgive. Through this retreat I have learned how to love, how to forgive, just like Jesus forgave His enemies and those who persecuted Him. I have learned how to serve God with love and kindness; I have learned to do things not to please man, but to please God. And most of all, I have learned how to be Jesus' disciple. To be a disciple of Jesus means being like Jesus, doing the things Jesus did.
Through this retreat, I have learned to give with love, how to treat others with kindness, and how to serve God with all my heart and all my strength. I loved all of the Core Values, but this is what touched me the most and what I found the most edifying for my life as a Christian: love, forgiveness, and how to serve God. Thank you for making it all possible.
Gerse (recently completed his medical studies): I found these Core Values absolutely fantastic! They are very rich! They strengthen our faith, make us want to read the Word more and more, they give us so many references, they touch on a multitude of topics that we face in our daily life, which is something I've never found anywhere else. I have read many Christian books, but what I have discovered during this retreat is truly exceptional and valuable. I know that the Lord is the One Who has led me here, and I thank God for it.
I have learned so much during this retreat, not only from the Core Values, but also from the atmosphere between the brothers and sisters, I've never seen anything like it anywhere else, the joy, the love, the sharing, and I thank God to have been able to take part of it all.
All the commentaries and explanations given push us to action, they also expose our weaknesses and our laziness before God, but they arm us and comfort us, they give us the motivation to go forward, to stop hesitating, to stop analyzing, and to truly embrace God's Word. It was truly wonderful. We have the desire to work for the Lord, but we are weak, so we pray that God will give us the strength and the courage, through His Holy Spirit, to step out and do what God wants us to do to further His work, as disciples, and to also make disciples.
I am truly overflowing with joy and I salute all my brothers and sisters from around the world, I love you all!
Joe (engineering student): I want to thank the Lord for the wonderful time I had during this retreat, and also for all those who made it possible for us to be here. Watching these Core Values videos and Tommy's Windows' slideshows has deeply changed me, and taught me to pursue God's Spirit and to have more love for humankind.
For me it's been a wonderful opportunity. At first I wasn't even sure about attending this retreat. I didn't even know that one day I would be called a Christian and I would give my life to the Lord, because I used to be a total pagan, and I can only thank the Lord to have chosen me.
"Espoir Congo" has trained me, and has opened my spirit. Because of the faith I now have in Jesus, people come to me to ask for prayer, and Jesus always answers and gives solutions. 
I would also like to thank all those who have sent donations to make this retreat possible.
John (graphic design student): I used to let worry occupy the first place in my heart, but learning about this Core Value ("A Passion for God") urged me to let Jesus occupy first place in my heart once and for all!
The Bible tells us in John 14:24, "If someone loves Me, he will obey My Words. And My Father will love him, and we will make our above with him." So, if I really love Jesus, I must obey His Word and my heart will automatically become Jesus' home.
There will be no more worries because:
--He is Holy and He will take care of His house which is my heart, He will sweep it so that it will always remain clean,
--He has the power to multiply bread,
--and I will be able to say 'good bye' to drought and darkness, because Jesus is the light and in Him there is such water that we will never thirst again.
What a wonderful life that will be, no more power cuts or water shortage! This house will never lack anything.
Marie (lawyer): I have really benefitted from this retreat/seminar. 1) I'd like to testify that when I came, I was quite sick with gastritis, but after spending time with the Lord during the retreat and asking for prayer, I woke up one morning and the Lord had totally healed me.
2) Studying these Core Values has woken me up spiritually and motivated me to immerse myself in God's Word, and also to seek God, to have love for my neighbor, to take a part in God's work, particularly in Bandaka where I come from (Equateur Province).
I want to thank all those who have made this retreat possible.
Olivier (IT engineer for Human Right organization): We have really benefitted from studying these Core Values, we praised God, we prayed, we watched feeding slideshows, it's been a wonderful time of fellowship with our friends, and made it possible to strengthen our brotherhood.
I have been serving the Lord since 2009. I am teaching the 12 Foundation Stones Bible course to a group of students at the University of Kinshasa, I also witness in schools, in jails and prisons where we distribute tracts, Activated magazines and posters to the inmates.
These Core Values have been very strengthening spiritually, and we thank all those who made this retreat possible by their donations.
I also want to thank my brothers and sisters who have attended this retreat, because it's been a very special time which has enabled us to get to know one another better and to strengthen our relationships, share our prayer requests, and pray for one another (we asked the Lord for spiritual and physical healing). To be away from the noise of the city in these beautiful surroundings has been a heart-warming time that has deepened our relationship with the Lord. And for this I thank you.
I really like the poem from Amy Carmichael at the end of the "Passion for God" Core Value: "Make me Thy fuel, Flame of God". Also Matt 5:16 "let your light so shine". For me this prayer is very deep, very real. It has touched me deeply, and I want to make it my prayer, that I may become a light to reach others.
Sebastien (Pastor of a Lutheran church): We have seen and lived many, many wonderful things during this retreat. I have learned many things that I didn't even know as a pastor, that are going to help me in my pastorate. Thank you so much for making it all possible.
Theo (pastor and director of our school in Kikimi): Personnally, I feel it's a great opportunity the Lord has given us, to comfort us, to strengthen our spirits, and to fellowship with one another. This retreat has added something to my personal life and my spiritual life, it has strengthened some aspects, especially in regards to faith. The different Core Values we have studied help us see how we can improve our way of working for Christ, and how to fine-tune some aspects that we have a tendency to ignore.
We are very grateful to those who have organized this retreat and we believe it won't be the last time.
Thierry (lawyer and teacher of 12 Foundation Stones Bible Course) : I thank the Lord for this opportunity, it's been a great joy for me to attend this retreat with my Bible students who have been very, very active and very motivated by the Bible Course. As one of the organizers of the retreat, I chose to present the Core Value "Pursuing God's Spirit", because I just love the things of the spirit. All the Core Values were very interesting, and all the participants were on fire, and freely shared their questions, problems, and the difficulties they face in living for the Lord. We were here as a team to answer them and to help them understand things. They were all very honest, those who had difficulty forgiving were open about it, and we showed them in the Word how the Lord has asked us to forgive. That's why we direct our students first of all to the Word, to accept the Word, to accept that God is able to change them and transform them to love even their enemies. Some of them made the commitment to forgive, and to love everybody.
I was also impressed by the humility of some of the participants who have been pastors for many years. Even though they've studied theology, they had the humility to come and learn from someone like me who is younger than them. It just shows that there's no age in Christ Jesus.
We have told our students that what we do today, they will do tomorrow. Today I may be one the organizers of the retreat, but I was also in a learning position before. So they too can expect tomorrow to become teachers and shepherds, to organize retreats, and to train others in these Core Values.
We've had a wonderful time here, praising the Lord, I personally love music and I play the piano, I love adoration. I would like to thank all those who made it possible, and those who made this presentation of the Core Values, which are very, very rich and which the whole world needs.
We thank all the brothers and sisters who contributed financially and spiritually to make this retreat possible, and we sincerely thank the team who has remained here in Congo, Gino and Clotilde. They are like our parents, even more than our parents; when we are together it's as if we were in Heaven, there is no sadness, only joy, consolation and hope. This retreat also has been like Heaven, we forgot all about life in the city, everybody was so happy. One of the brothers even told me, "Couldn't we build some huts and stay here forever?" I said, "It's in Heaven that we'll be able to live together. In this world, we have to go here and there, where the Lord calls us to accomplish His mission, go into all the world to make disciples of all nations". This is the mission the Lord has given us and we are committed to live it. I thank you, in the name of the Lord.
If you would like to contribute, please click here.