1      Kikimi School
In June, our 6th graders will be taking their final exam to complete their Primary School Education. This year, the exam will last for two days instead of one, and will include an oral exam to check their mastery of the French language. To prepare for it, they come during the holidays and on the week-ends for extra preparation, and we were asked to sit in on it to help them practice in front of an audience.
2      Teaching the STEPS Program
It's been pure joy to use the freshly translated booklets from the STEPS program to teach some of the kids on Saturday, who are really enjoying it so far. Their French is still very basic, so this program is going to help enrich their vocabulary and understanding skills, besides instilling in them these beautiful Christian principles. A big THANK YOU to all of you translators out there who are making this dream a reality.
While I was teaching, Florence prepared some porridge which we served to the kids.
3      Goods Distribution
Every three months, a foreign company donates a large quantity of their products, which we distribute to the children. These products help the kids keep a good hygiene and cleanliness standard and the kids are very thankful for them.
4      Village Development
4.1    Construction of showers:
Slowly but surely, the showers are going up and are operational.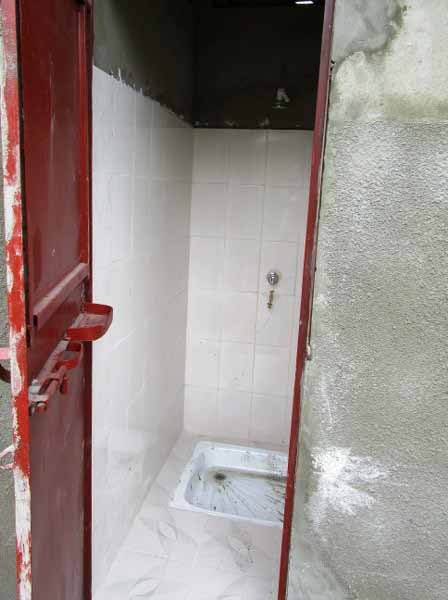 The head mason lost his father, so had to stop working for a couple weeks (funerals are a long ritual here in Congo) but should come back to finish up the work this week.
4.2    Building of a classroom for the Tailoring Training:
Good progress on this classroom, which will also be completed after the funeral.
5      Medical Equipment
Thanks to a donation from some wonderful folks, we've been able to purchase more medical equipment such as blouses for the doctors and nurses, a stretcher, and hospital mattresses. More coming soon! 
6      Aid to women
6.1    Bernadette's story:
A few years ago, Bernadette lost her husband, leaving her alone to care for her 5 children. The two youngest, Sincere and Fumusantu, joined our school, free of charge, including uniforms and school supplies. Bernadette received weekly food packages as well as ongoing assistance from Theo and Florence. Her daughter Sincere, a bright girl, was our school laureate in 2013! She is very thankful for the Lord's care for her and for the opportunity to study her children have been given. She testifies how, if it weren't for our association, her children would have nowhere to go, meaning would most likely end up begging on the street like so many others. (See https://youtu.be/sEjwnvT42cE).
7      A plea for Anna to attend Medical School:
Anna is Theo and Florence's eldest daughter. She is graduating from high school this June. Inspired by our project in Kikimi, her parents' dedication and the beautiful development of the Medical Center and Maternity, she wants to attend Medical School to become a doctor and one day help oversee the Medical Project which is helping the 5,000 inhabitants of the village. We want to help Anna fulfill her dream, as well as make it possible for our 6th graders to pursue their studies if they so desire. Up until now, Espoir Congo has only been able to cover the expenses of running a Primary School. In order to do more, we will be creating a Scholarship Fund for bright students who want to continue their education but don't have the means to do so. Thank you for praying for the Lord to open new avenues of supply towards this.
8      Distribution of Bibles
We began distributing the Bibles we received from Mark McMillion, starting with all the teachers of our Bible course so they can supply their students with the Bibles they need, and have Gospels of John on hand for their various outreach ministries in hospitals, university or prisons. Bibles are quite costly here, so they are all overjoyed and so very thankful to receive them free of charge. When we had visited the group in Massina last month, only 1 out of 20 students owned a Bible. Now, they each have their own.  
"If one dream should fall and break into a thousand pieces, never be afraid 
to pick one of those pieces up and begin again." — Flavia Weedn