1      Final exams
The kids had to travel quite far to take their final exam. We rented a bus for transport and Theo and Florence arranged for them to spend two nights on location in the house of a pastor who graciously put them up. They brought food along and Florence had to cook for them during those two days. It was fun for the kids, but also a bit stressful, as the exams were quite difficult. Last year, all of our 6th graders had passed. We pray for good results this year as well. It was very encouraging for us to see that almost half the class was comprised of girls, as girls education is still a low priority in this country and something we aim for.
2      Solar Panels for Kikimi
After many months of research, we finally installed solar panels in Kikimi that are now giving electricity both to the school and the medical center. We started with just two panels, and will see how it goes, and will add more later on if needed as the Lord supplies. Everyone is so happy! It is just wonderful to now have ongoing electricity for the running of the school and also for the entertainment of the kids. In the medical center, one immediate blessing is to now have instant results for the lab tests which enables us to take action right away to treat detected illnesses. 
3      Construction and Maintenance
Slowly but surely, progress is made on the tailoring classroom and the roof is now up. Patience is a much needed virtue in Congo. We want things to happen fast but once we've done all we could, we just have to rely on prayer and trust the Lord will bring it to pass, as there are always so many unexpected delays.
We repainted the outside of the school before the graduation, so it will look inspiring for all, and the inside will be repainted during the school holidays, so the classrooms will be nice and fresh when the kids return in September.
4      Setting up library in memory of our daughter Natalie
We got some little tables and chairs and spent a day organizing the books and getting things set up for the inauguration. We also put up some of Natalie's African paintings on the walls, so it will serve as a mini art gallery in her honor. Not only was she a bookworm, but it was one of her heart's deep concern to help underprivileged kids receive a proper education. Our prayer is that this library, as humble as it may be, will be used of the Lord to fulfill her dream for the children of Kikimi.
5      Medical Equipment
As mentioned last month, we were able to further furnish the Medical Center with needed equipment. Here you can see patients being treated for malaria on the newly purchased hospital beds.
6      Impromptu Medical Camp
A medical doctor and a lab operator from the Health Department contacted our little center, offering to give free consultations for a couple days. There was no time to prepare but nevertheless word got around and 80 people from the village came for consultation, including 15 expectant mothers. A new baby had just been born the day before, so the doctor was able to give a thorough check up to both mommy and baby. Both doctors were very impressed by the quality of our little set up in the bush and would like to return. Their only requirement was that we get a megaphone to be able to call the people to come!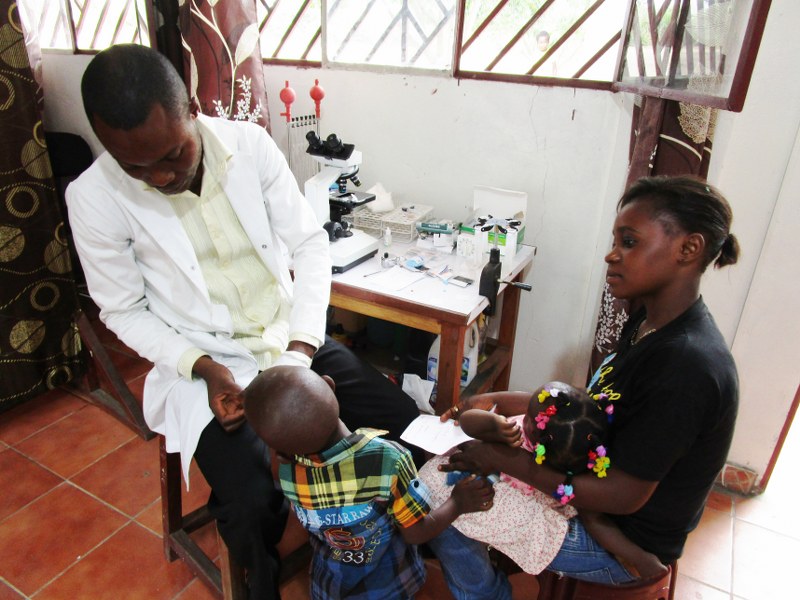 The smallest bark on life's tumultuous ocean
Will leave a track behind for evermore;
The slightest wave of influence set in motion

Extends and widens to the eternal shore.