In the Democratic Republic of the Congo, close to 11% of the total child population is orphaned, due to war in the east of the country, and due to malnutrition, poverty, disease and poor health care in urban areas like Kinshasa. (See Espoir Congo Presentation Video part 1)
And while the AIDS endemic has orphaned well over 170,000 children, malaria still remains the greatest threat. The capital is filled with begging children called "shegues," many of whom are orphans.
Mashingo (left) and Djems (right) could have ended on the streets, like so many others. When Djems was just a baby in arms, a truck ran over his sister Mashingo. Thankfully, her little body ended up between the wheels, unharmed. Unfortunately though, in a moment of panic, their mother threw herself under the truck to save her little girl. She succeeded, but lost her own life when the truck driver inadvertently ran her over. She died in agony a few hours later. Mashingo and Djems' father had left them long before Djems was born, due to poverty and despair, and inability to care for his family—a scenario all too frequent in this part of the world.
Lavie(left) was 7 years old when, in the middle of the night, a lightning bolt killed both her parents. She was left alone. The father of Fatu (right) drowned in a boat accident in the Congo River when she was just born. Unable to care for her, her mother abandoned her.
When Kyler (left) was just a few days old, some bandits attacked his home and knived his mother to death. He suffered malnutrition and his growth was stunted until we found him 2 years later. Ndomba (right) lost both his parents to AIDS, one after the other. To a westerner, some of the things that befall these children are almost unbelievable. For example: When children are malnourished, their hair tends to take on a yellow-reddish tint. When this happens to a child, they are then often accused of being sorcerers and are thrown out on the street.
Thankfully things changed for these children when Theophile Muntumosi made contact with them. A food distribution was started, to remedy the most immediate need in saving these children from starvation. Espoir Congo is presently caring for these children, most of them orphaned due to untreated malaria or typhoid.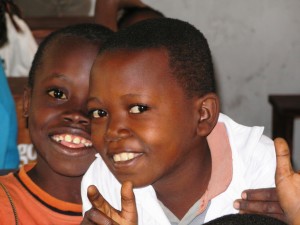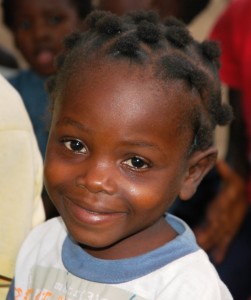 Our ongoing program provides basic nutrition and medical assistance, but there is still much to do to improve the living conditions, sanitation and education of these unfortunates in order to fully equip them for a brighter future. Your donations can do just that, give an orphaned child a future. We guarantee that each one will make a difference in a child's life.